Jimmy Huynh, RMT

May 26, 2022 · 5 min
---
What Is A Registered Massage Therapist?
A registered massage therapist (RMT) is someone who is trained and certified to work on the soft tissues of your body including muscle, connective tissue, tendons, ligaments and skin. They use varying degrees of pressure and movement to help relieve strained muscles and aches from injuries, certain health conditions, everyday life, and improve general health. Gentle stretches and advice may be given to provide further relief.
What are the benefits of massage?
Studies of massage benefit have found that massage can:
• Reducing stress and increasing relaxation
• Reducing pain, muscle soreness and tension
• Improving blood circulation, energy and alertness
• Lowering heart rate and blood pressure
• Improving immune function
• Relieves headaches
What types of massage therapy do you offer?
We offer many massage techniques customized to safely and effectively treat your conditions. We mostly offer but are not limited to several massage therapies such as Swedish, Myofascial, Deep Tissue, Sports Massage and Lymphatic drainage.

A brief overview of each:

Swedish - The therapist uses light to moderate pressure and slow long strokes to return blood back to the heart. Swedish is mainly used for relaxation, relieving stress, decreasing muscle tension and facilitating a general sense of wellbeing. Mainly targets the superficial layers of the skin or muscles.

Myofascial - The therapist uses deep pressure that targets the muscle tissue and the surrounding material called fascia. Fascia acts as a packaging agent for the musculature and has a tendency to thicken in dysfunctional areas making it harder for a person to self-correct a postural distortion or mechanical dysfunction.

Deep Tissue - The therapist uses finger pressure and the stroking of deep layers to massage tissue areas where muscles are tight and knotted. Individuals often seek deep tissue massages because this method eases chronic aches and pain found in the neck, upper back, lower back, legs, and shoulders.

Lymphatic Drainage - The therapist will use slow and circular motions and pressure to move lymph fluid throughout the lymphatic system. It is most often used to decrease lymphedema, a condition in which swelling occurs when lymph fluid cannot flow normally, resulting in a build up of fluid.

Sports Massage – This type of massage is specifically designed with athletes in mind. Athletes often need relief from pain caused by a repetitive motion associated with their chosen activity; Sports massage incorporates very vigorous, fast techniques to help quicken workout recovery times, and enhance overall performance.
What conditions can massage therapy help with?
Massage can help treat many conditions related to musculoskeletal, overuse injuries, and other conditions. Here is a list of common areas that massage therapy can help with:

• Neck and back pain
• Migraine/Headaches
• Whiplash related pain
• Pregnancy related pain
• Frozen shoulder
• Scoliosis
• Work/sport injury pains
• Arthritic pain
• Carpal tunnel syndrome
• Foot pain
• And much more

If you have any questions about how massage can help you for your situation please feel free to email us and we will get back to you as soon as possible.
Is massage therapy safe?
Yes. Registered massage therapists will go through an in depth health history interview and physical assessment to determine if you are healthy enough for a massage and formulate an effective treatment plan to help treat your complaints. During the treatment we will consistently check on your comfort and at any time you are free to stop the treatment.

However, massage may not be appropriate if you have:
• Bleeding disorders
• Burns or healing wounds
• Deep vein thrombosis
• Infections
• Severe osteoporosis
Will I feel sore after a massage?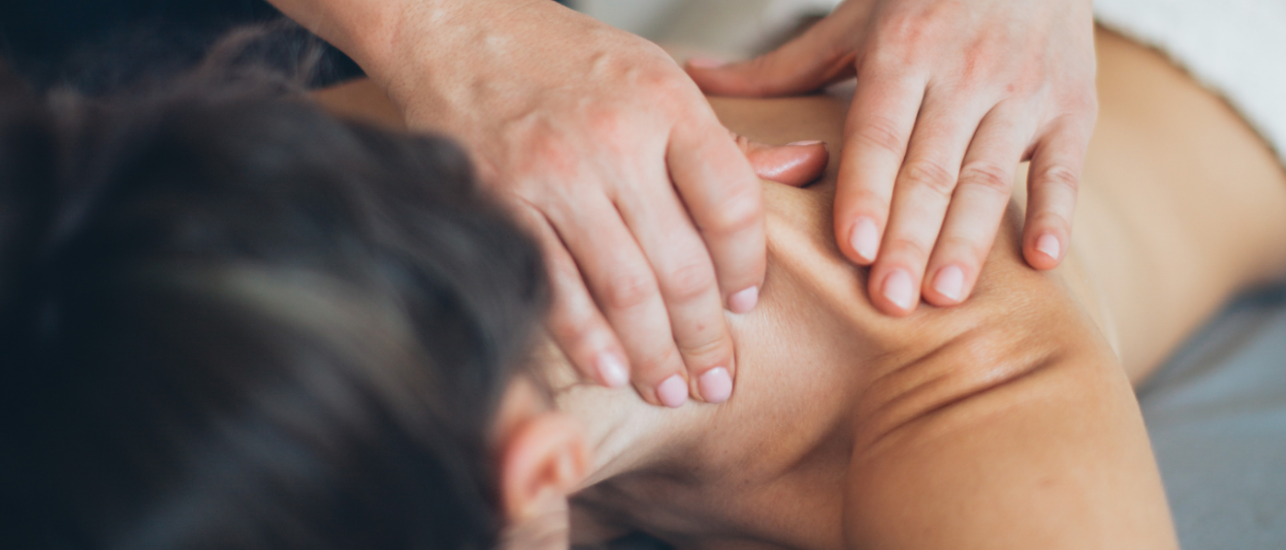 If you have not had a massage recently or if it is your first one, you may feel sore afterward. This is normal after working on muscles that you may not usually use often. Your muscles may not be accustomed to massage. In the same way that your body gets used to working out, your muscles need time to get used to being manipulated in certain ways.

Your body will create muscle memory if you have frequent massages, so aim to be regular with your sessions when possible.
Will I have to undress for my massage?
You are free to undress to a degree you are comfortable with after getting on the table. We will provide clean linens to drape over your body. Only the areas that we will be working on will be undraped and your sensitive areas will remain covered throughout the treatment to create a safe and professional environment.
Can my therapist diagnose my condition?
No. We recommend going to your family doctor or to a qualified healthcare provider in order to diagnose any conditions you may have. As massage therapists we will treat you to the best of our abilities on the symptoms that may be caused by your condition as long as it is deemed safe.
Does my insurance cover massage?
Depending on your coverage, massage may be covered fully or partially as long as you are treated by a registered massage therapist. Please contact your insurance company beforehand to see what you are eligible for. We offer direct billing to many insurances for your convenience. We offer direct billing, you can check out our insurance coverage here.
How long are the massage treatments?
We currently offer 30, 60, and 90 minutes for regular massages. ICBC patients will have a 30 minutes long massage.
Initial treatment will be 60 minutes which will include a health history interview along with a physical assessment, treatment, and a review of findings. This is so we can formulate an effective and safe treatment plan to help treat your symptoms.
Regular treatment will include a follow up assessment, followed by treatment and a review of findings.
How Can I Book?
We offer many ways to book so you can pick whichever is convenient for you.
Online: https://paradisechiropractic.janeapp.com/
Phone: (604) 496-0626
Email: info@paradisechiropractic.ca
---