Author: Lilian Tran

March 30, 2023 · 5 min
---
Introduction
Slips, trips, and falls can happen anywhere and anytime. It is essential to be informed of fall safety because it is one of the unintentional accidents that can lead to serious consequences. A fall is defined as the descent to the ground or floor or other lower level.
At what age do falls become serious?
As reported by the Public Health Services in Canada, fall risks are common for those aged 65 and up. Falls jeopardize the well-being of senior people and limit their ability to remain active. According to the CDC, one out of four falls in older adults can lead to deaths, emergency visits, and hospital stays. It can lead to broken bone(s) or head injury, and without proper attention, it can cause a higher chance of being prone to another injury [2]. Fall-related injuries have negatively impacted the quality of life of older-aged people and raised the demand for long-term caretakers and care [1]. The treatment expenses for these accidents are expensive, particularly when long-term care is required.

This risk can be minimized. Stay informed with our collection of safety tips in preventing slips, trips, and falls.

Click here for printable PDF version.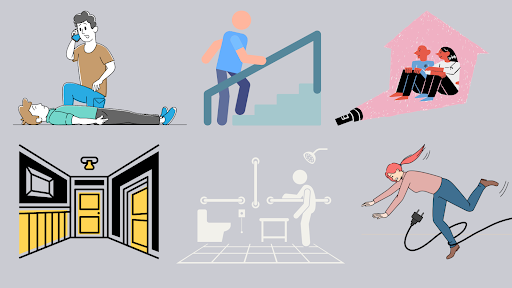 Indoor Safety Tips
▢ Have floors clear of any things such as wires or cords.
▢ Gets vision, medication, and hearing checks regularly.
▢ Clean all spills on the floor immediately.
▢ Clear clutter.
▢ All carpets or rugs have a non-skid or are taped to the floor.
▢ Stairwells are well-lit, have switches accessible and have handrails on both sides if possible.
▢ Install bars in the bathroom in reachable areas near tubs, showers, or toilets. Place non-skid mats in tubs and showers. If you have trouble standing, we recommend placing a chair with a non-skid rubber mat in the tubs or showers and using a hand-held shower head to bathe.
▢ Have well-lit rooms at night to avoid falls. I.e. Light sources/switches near your bed, night lights in hallways and bathrooms.
▢ Have an emergency source of light such as a flashlight and batteries or a candle and a lighter in a known place.
▢ Getting up from a seated or lying down position slowly, as quick changes in blood pressure can cause dizziness.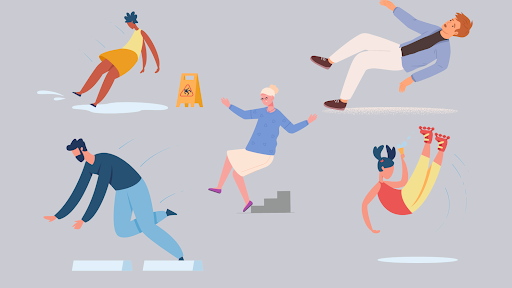 Outdoor Safety Tips
▢ Have appropriate footwear for wet or slippery weather conditions.
▢ If the porch is slippery, consider using weatherproof, gritty paint to prevent any accidents.
▢ Walking on slippery or visually uncertain floor patterns should be done with caution. These could be placed in the lobby of a hotel, a hospital, or a grocery store. On unfamiliar or rough ground, do not be afraid to use a cane or walker or to ask for assistance.
▢ Slow down. Keep in mind that if you act quickly, accidents are more likely to occur.
▢ Be extremely cautious in wet or slippery surroundings because more fractures might happen there. Keep a little bag of sand or salt in your car throughout the winter. Sprinkle sand or salt near your car door if the ground where you park is icy.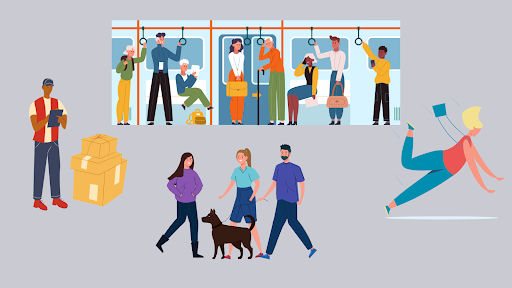 Preventing Falls While in Transit
▢ When a bus is turning or slowing down, stay vigilant and brace yourself.
▢ When getting into or out of a car, be aware of slippery pavement and other dangers.
▢ To avoid falling down while seeking for change, have your fare ready.
▢ Avoid transporting too many packages. One hand should always be available for grabbing handrails.
▢ Wear brightly coloured or fluorescent clothes and have a flashlight on you at night.
▢ If at all possible, try to drive less frequently and steer clear of nighttime, and rush hour

References
[1] Canada, P. H. A. of. (2022b, June 8). Surveillance report on falls among older adults in Canada. Www.canada.ca. https://www.canada.ca/en/public-health/services/publications/healthy-living/surveillance-report-falls-older-adults-canada.html

[2] Centers for Disease Control and Prevention. (2020, September 30). Facts about falls. Www.cdc.gov. https://www.cdc.gov/falls/facts.html CDC Supports Communities. (2022). https://www.cdc.gov/falls/pdf/CDC-DIP_At-a-Glance_Falls_508.pdf
---